Builders fined for Cheshire mansion bodge
Beat The Cowboy Builder
See on Scoop.it – Beat The Cowboy Builder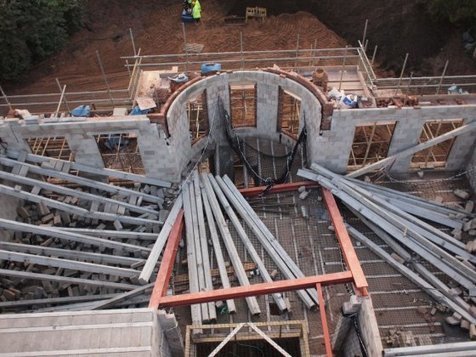 Two builders fined £72,000 last week after three workers were injured when a floor collapsed during construction of a mansion in Cheshire.

One of the men was struck by a falling concrete beam and has been unable to return to work following the incident on 11th November 2011.

Belmont Homes (Cheshire) Ltd and Sale-based Waymac Ltd were both prosecuted by the Health & Safety Executive (HSE) after an investigation found that work at the site had been badly planned, putting multiple lives in danger.

Liverpool Crown Court heard that property-developer Belmont had brought in several contractors, including bricklaying firm Waymac, to help with the construction of the four-storey, six-bedroom property, valued at £2m, on South Downs Road in Bowdon.

During the project, the firms discovered that the steel frame for the first floor was too high and needed to be lowered. This meant reducing the height of some of the concrete padstones, upon which the frame rested, by lifting the frame and then lowering it back down.

The concrete beams for the floor were then put in place but the steelwork gave way and collapsed. Three of the men fell with it, with the beams falling on top of them.

Two workers escaped with minor injuries but one suffered severe injuries when he put up his left arm to protect his head from a 500kg concrete beam. The 47-year-old from Wythenshawe sustained a crushed arm, fractured ribs, punctured lung, broken collar bone and damage to his back. He has lost the use of his left hand and only has very limited use of his left arm.

The HSE investigation found that the work to lower the steel frame had been badly planned, and neither company had considered the potential risk of collapse while the structure was in a temporarily weakened state.
Ronnie Pye's insight:
Health and Safety disaster