How Can The Guide Help You – Beat The Cowboy Builder
Beat The Cowboy Builder
See on Scoop.it – Cowboy Builders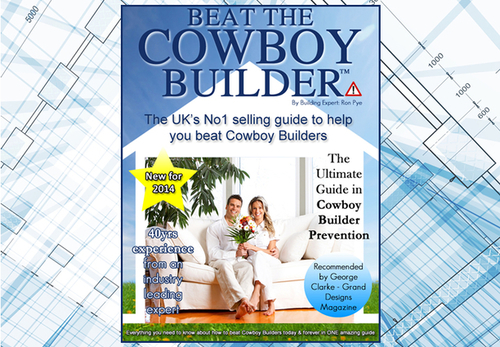 Beat The Cowboy Builder's mission to assist anyone who intends to carry out any new build, alteration, renovation, small works or extension to their property.

Our expertly written guide gives you 20 specific management points that prevent any Cowboy Builder or Confidence Trickster from accessing your project.

Beat The Cowboy Builder – The Guide is the ULTIMATE in Building Management Protection. The Guide is a 28 page, 19,500 word compendium of 40 years Construction Project Management Experience. The Guide is a fail-safe account for you, the home owner, to follow and implement from project outset to completion.

This unique innovative and comprehensive step by step guide gives you a proven system of management for any small project that they can fully understand and manage themselves easily. Projects that have employed the systems covered in The Guide include private dwellings, public sector buildings, hotels, pharmaceutical buildings, rail and IT.

We have dealt with contracts worth up to £650 million and have been engaged on many high profile projects, including the MOD Collocation Centre, Central London Hotels, and many well-known Railway Station developments throughout the UK. If you want to avoid Cowboy Builders and Confidence Tricksters now and forever, this is The Guide for you.
Ronnie Pye's insight:
Nice to see we are going International!!
See on www.buildingbible.co.uk